History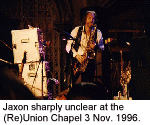 David Jackson the Saxon played flute and saxophone from an early age. He went to university in Dundee and was in several Scottish bands (mainly jazz combos, I believe), one was the soul-outfit Hadrian's Wall. Jaxon met Max Hutchinson at a party, and although living in different cities, they played together a lot. David got his degree, then a job in London and went to and from Oxford where he played with the jazz-blues-pop-group Bernard Reich. He left his job and then the band, after some months of little progress, when Max offered him a job in Heebalob in London. After their record deal fell through, Peter Hammill asked if he wanted to join a band he tried to reform. David auditioned and was accepted as the 5th member of VdGG V.

His sax can be heard on Brinsley Schwartz's (friends of VdGGs) 2nd album Despite It All (1970), Leigh Stevens' And A Cast Of Thousands (1971) and Nine Days Wonder's Only The Dancers (1974).

In the 1972-74 period Jaxon worked as a van (der) driver. After The Long Hello (Vol. 1) he formed Juggernaut with Nic Graham (bass, voc) and Tony Knight (drums), both from Skin Alley. They played a few gigs, but got no record contract and had personnel troubles. Nic was upset, though, when Peter Hammill called in the summer 1974 - the day before the Jackson family's holiday (PH nearly ruined it) - and David eventually left for VdGG. But Nic produced Jaxon's Tonewall album 17 years later (see Jackson solo etc.).

Mr. Jackson played with Peter Gabriel's band in 1978-79 for gigs but no recorded output. John Ellis joined Gabriel a little later. David went into teaching for the better part of the 80s. His real comeback seems to have been the music he wrote for the plays Savages (1990) and The Death Of An Andalusian Poet (about Federico Garcia Lorca, directed by Joel Roszykiewicz 1990/91). The former was released on cassette; from the latter only Romance From Lorca has surfaced, on Tonewall Stands. It's based on a tune played by Lorca himself. David: "I just had to copy it and learn his piano-playing because it was so beautiful. I listended to it for hours, and learnt how to play it. Then I forgot how he'd played it and re-arranged it. I've listened to his original since and of course I've got it completely wrong" (Pilgrims no. 17). He went on tour with Italian singer Alice in 1990 (whom PH had cooperated with a little earlier and again later).

Jaxon the teacher conducted and produced The Single which was performed by his schoolchildren for the school opening. Hazard Dream Sequence was one of four tracks on Ptolemaic Terrascope's 7th EP. It's an early version of Turn Into The Wind which later surfaced on Jaxon's stunning Tonewall Stands album. On Tonewall: "People who are familiar with The Long Hello Vol. 3 may realise that that was made with a four-track, going all over the place with this machine (several studioes). This (Tonewall) was a similar idea, but the journey was not with tape but with digital information... Technically, the album started on my D-20 at home. All the tracks were written and everything was stored inside the D-20. I went to London and got everything out of that and onto computer and manipulated it and assigned it... By April 1991, I'd finished it, but wasn't happy... When I actually listened to my finished studio album and compared it with live Tonewalls, I actually preferred the live recordings... I approached an old friend, Nic Graham, showed him it all... He booked us into a really nice studio and took the whole thing apart. He managed to synch the tape and his computers to what I'd originally done... He stripped it to the bone, took out all the unnecessary stuff... All the tracks was rebuilt... I met up with some really good musicians and put them on here and there. If I was to do another album, I'd get these guys back and ask them to play live, and I think that would be ten times better!" (Pilgrims no. 17)

By the mid 1990s Jaxon had discovered the amazing world of the Soundbeams system. They are cone-shaped beams that produce sounds depending on how (speed, angle) and where the beams are cut. Soundbeams fits nicely into a one-man band. Jaxon can play his saxes and flutes while moving/dancing in between the beams. They are also ideal for disabled people to produce music. Jaxon's main occupation for several years has been projects activating disabled children. Their joint efforts with Soundsbeams, percussions, Jaxonsaxes etc. can be heard on the albums Beams & Bells and A to Z Healthy Choices.

Batteries Included consists of live recordings from 1992-93 with the Dutch percussionist Ren&eacute van Commen&eacutee, released ten years later. The album includes reworked Tonewall, Hammill and VdGG goodies etc.

The Guastalla double DVD is a great document of a full-blown Jaxon solo show with Soundbeams and all after three days of workshops with disabled children in a small town in Tuscany, Italy in 2002, in collaboration with the Italian Peter Hammill and VdGG Study Group.

2003 saw a project organised by Andy Tillison from Parallel or 90 Degrees, also involving Swedish guitarist extraordinaire Roine Stolt (of the Flower Kings) and others. The provisionally project named The Tangent recorded The Music That Died Alone (InsideOut Music, 2003). Later it turned into a permanent band, without David. Andy Tillison: "When I went to secondary school I had a poster of Jackson over my bed, so you probably understand what kind of relationship I had to him. To have Jackson living in my home for three days, to work with my own compositions, can hardly be described. Extatic is as close as I get! It was the realization of an old dream. He brought along an enormous amount of enthusiasm, and the album would've sounded poor without his colossal cleverness and integrity. I still haven't heard anyone playing the saxophone the way Jackson does ..." From an interview with Andy for Scandinavian Monster Magazine issue 14 by Geir Larzen who translated Andy into Norwegian. The excerpt above has been translated back to English for the occasion.

Guest sax or flute appearances by Mr. Jaxon (see also VdGG VIb): Dinner At The Ritz by City Boy (Vertigo 1976) with extra vocal revelry by some of the VdGG boys (who recorded World Record in the next-door studio), Come Un Vecchio Incensiere by Alan Sorrenti (Italian EMI 1979; whom David had toured with in 1973 and 74), the Usher chorus Sarah-Jane Morris' self titled album (German Jive 1988), Spaced Out by Magic Mushroom Band (Mystic Stones 1991) and an album by MMB's alter ego the house outfit Astralasia (called Eye Of The Angel? 1991?), a couple of tracks on Judge's Democrazy (Oedipus Recs 1991) and lots on Curly's Airships (Masters of Art 2000), several albums by PH and the following singles and EPs by Jakko:
The Night Has A Thousand Eyes / Something Tells Me (Chiswick 1982)
Straining Our Eyes / Fall To Pieces (Chiswick 1982)
Grab What You Can / Tell Me / Would I Be The Same / I'd Never Have Known (Chiswick 1982)
Dangerous Dreams / Opening Doors (Stiff 1983)
I Can't Stand This Pressure / Living On The Edge (Stiff 1984)
I Can't Stand This Pressure / Living On The Edge / Cover Up (Stiff 1984)
Who's Fooling Who / A Grown Man Immersed In Tin-Tin (Stiff 1984).