home | news | personnel | index | articles | sites | about
Peter Hammill solo IV
[March 1983 - present]

Personnel

Name
 
Peter Hammill: voc, gtr, kbds
 
Guests:
Guy Evans: drums, perc, sampler
 
Nic Potter: bass
John Ellis: gtr
David Jackson: sax, flute, soundbeam
Hugh Banton: mad cello, organ
David Coulter: didj., violin, acc., mand.
David Lord: kbds, perc, bass
Stuart Gordon (Hooligan): violin, gtr
Manny Elias (Max): drums
David Luckhurst: voc
Paul Ridout: electronics
Simon Clarke: organ
Giles Perring: guitar, drum
Patou Soult: drum, percussion
Mat Fraser: drum
Holly Hammill: vocals
Beatrice Hammill: vocals
Roger Eno: keyboards

ex
 
K Group/Jackson/Judge
 
 
Guy Evans / J.B.E.
 
Guy Evans
The K Group
K Group/J.B.E./Judge
J.B.E. / Judge Smith
 
The K Group
The K Group
Tears For Fears
Crazy House / Usher
[PH's sound engineer]
 
 
 
 
 
 
[solo]

to
 
Judge Smith
 
 
Echo City /
Big Buddha / [solo]
Nic Potter
Stranglers
[solo] / Judge
Judge Smith
 
 
 
 
 
 
 
Echo City
Echo City
Echo City
 
 
[solo]

John Ellis: also cover designer for PH and Nic Potter
David Lord: PH's long time studio companion
Paul Ridout: PH's faithful sound engineer on the road, also cover designer for PH and others
Discography

1983
1984
1985
1986
1986
1986
 
1986
1988
1988
1990
1990
1992
1992
1992
1993
1993
1993
1995
1996
1996
1996
1997
1997
1998
1999
1999
2000
2001
2001
2002
2004
2006

Loops And Reels
The Love Songs
Just Good Friends / Just G.F. instrumental
Skin
Painting By Numbers / You Hit Me Where I Live
Painting By Numbers /
 You Hit Me Where I Live / Shell
And Close As This
Spur Of The Moment (with Guy Evans)
In A Foreign Town
Out Of Water
Roomtemperaturelive
Fireships
A Fix On The Mix
In The Passionkirche
The Noise
Offensichtlich Goldfisch
There Goes The Daylight
Roaring Forties
X My heart
Tides
Sonix
The Union Chapel Concert (with Guy Evans)
Everyone You Hold
This
Typical
The Appointed Hour (with Roger Eno)
None Of The Above
What, now!
Unsung
Clutch
Incoherence
Singularity

Sofa Sound
Charisma
Charisma
Foundry
Foundry
Foundry
 
Virgin
Red Hot
Enigma
Enigma
Enigma
Fie!
Rockport
Berlin Studio K7
Fie!
Rockport
Fie!
Fie!
Fie!
Sine Records
Fie!
Fie!
Fie!
Fie!
Fie!
Fie!
Fie!
Fie!
Fie!
Fie!
Fie!
Fie!

cassette
lp
single
lp
single
ep
 
lp
cd
lp
lp
2cd
cd
cd ep
vhs
cd
cd
cd
cd
cd
cd
cd
2cd
cd
cd
2cd
cd
cd
cd
cd
cd
cd
cd

History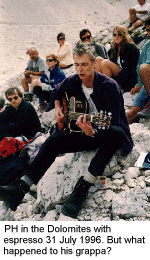 15 years this far, and PH's career is not at all finished yet! Apart from the the Usher-opera, the man has 12 studio albums two live-albums, one single, and 7" single / 12" EP and a CD EP to offer from this period! He has been touring Britain and the European continent almost every year, North America three times, Israel, Japan and Argentina twice. 1995 even saw PH playing in Russia (Siberia and Moscow), Finland and Poland! The trio PH, Nic Potter and Stuart Gordon who toured in 1990, and later the three plus Manny Elias were occasionally billed as The Peter Hammill Band. The touring force of 1994 and 1995: PH, Hooligan, Max and Jaxon were known as the PH Quartet.

PH freed himself from record company ties by establishing his own record label Fie! in 1991.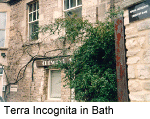 Loops & Reels was originally a cassette only release of dance, performance and experimental music recorded by PH on his own 1980-83. It has later been reissued on CD by Fie!

Spur Of The Moment is a collection of electronic improvisations by PH and Guy Evans.



Articles
Pictures